Top News
Artist Junior Garcia, who called for a protest march in Cuba, arrived in Spain unexpectedly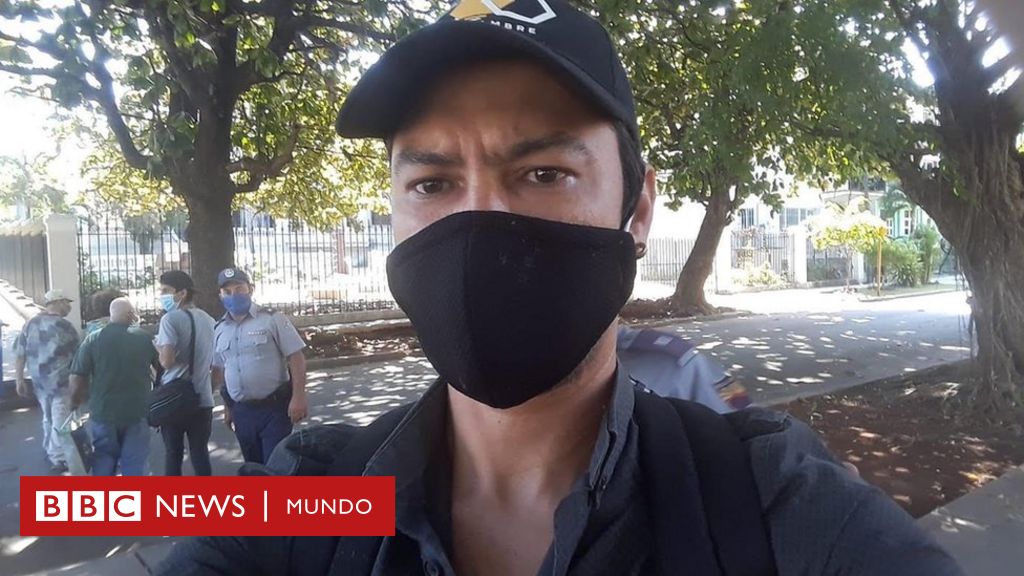 Cuban dissident artist Junior Garcia arrived in Spain, Wednesday, after the authorities prevented him from leaving his home on Sunday, and carried out acts of disavowal to avoid a march that he had announced alone.
The playwright confirmed in a Facebook message that they "arrived with his wife, Diana Prieto, to Spain alive, in good health and in sound thoughts," although he did not give details.
Spanish government sources had informed various news agencies of Garcia's arrival in Madrid on a "tourist visa", which caught the attention of some given that governments do not usually report on tourist trips in their personal capacity.
Later, official journalists published photos of the playwright with a suitcase at Havana airport.
"Junior is finally walking…as a tourist to Madrid", titled Cubadebate's official website.
The circumstances of the trip are currently unclear, how the playwright and his partner obtained a tourist visa or how they got to the airport despite police monitoring who reported outside his home to prevent him from leaving.
The Cuban government confirmed, on Wednesday, that there is no agreement between Havana and Madrid to facilitate the departure of the renegade Cuban state.
A representative of the island's government told EFE news agency that the Cuban authorities "They have nothing to do with it." With Garcia's departure he noted that the artist had processed the tourist visa "on his own."
And the Spanish embassy recently posted this on social media I will not process tourist visas For Cubans, until November 30, non-essential travel restrictions from third countries, including Cuba, will be maintained.
It is also not known whether Garcia and his wife received the vaccines, which are allowed to enter the European Union as tourists.
Since Tuesday, members of the Archipelago Tribune, which Garcia set up and held a frustrating rally on November 15, have reported that Garcia "disappeared" after losing contact with him.
In the days before the protest, BBC Mundo verified that the artist's phone only occasionally had a signal.
"I think they are trying to keep me isolated," Garcia said in a conversation with BBC Mundo last Friday after 44 attempts to contact in one day.
Phone has been completely lost since Sunday.
The 39-year-old actor has also recently become the most visible face of a new opposition current in Cuba, led by young artists.
Garcia participated in the unprecedented protest organized on November 27, 2020 in solidarity with members of the San Isidro Movement (MSI), another group of artists who went on a hunger strike and were violently expelled by the police.
Then, on July 11, in the framework of the mass protests that erupted in the country, Garcia went with another group of artists to the headquarters of the Radio and Television Institute of Cuba, where they threw them into a rubbish cart. Jailed.
Then he created it archipelago, the group that carried out an unusual call for protest which was not authorized by the authorities and which led to a widespread police presence and several disavowals during Sunday and Monday.
Several dissident artists have recently deplored that the Cuban government has put them in the dilemma of choosing between sending them to prison or being expelled from the country, with no possibility of return.
Such was the case of artist Hamlet Lavasteda, who was imprisoned nearly three months after her return to the island and, according to him, was "exiled" to Poland with her partner as a condition of his release.
Imprisoned MSI leaders (Luis Manuel Otero and Michael Osorbo) also denounced that the authorities had proposed to leave the island permanently instead of being imprisoned.
The Cuban government has not commented on these allegations.
In an interview with BBC Mundo last Friday, Garcia did not rule out the possibility of exile after the government told him, according to his testimony, that he would be sent to prison.
"With regard to possible exile, it is clear to me that my priority will not be better for my comfort, how I satisfy myself or my personal aspirations, but where I can be most useful to my country, in terms of how I can better serve Cuba's future."
You can now receive notifications from the BBC News Globalism. Download and activate the new version of our app so you don't miss our best content.